In 2021, groups across Europe came together to confront the communications strategies of big polluters with four days of decentralised, coordinated actions in the run up to COP26.
Watch the wrap-up video from the days of action here:
---
Take action in 2022
We are inviting groups to join us in further decentralised action against fossil advertising and sponsorship.
Together we will:
Reclaim corporate advertising spaces with creative artworks that challenge the fossil fuel industry.
Organise protest actions against fossil industry, airlines and car manufacturers as well as advertising agencies which promote these high carbon industries.
Continue campaigns to remove these big polluters from our sports clubs, museums, universities and art galleries.
Call for advertising and sponsorship bans on fossil fuels, cars and aviation.
Create online material to parody the marketing campaigns of big polluters.
How to get started:
---
---
High carbon advertising and greenwash
Fossil fuel, airline and car industries are continuing to launch aggressive greenwashing campaigns, and to fill our spaces with adverts and sponsorships that normalise a high-carbon economy.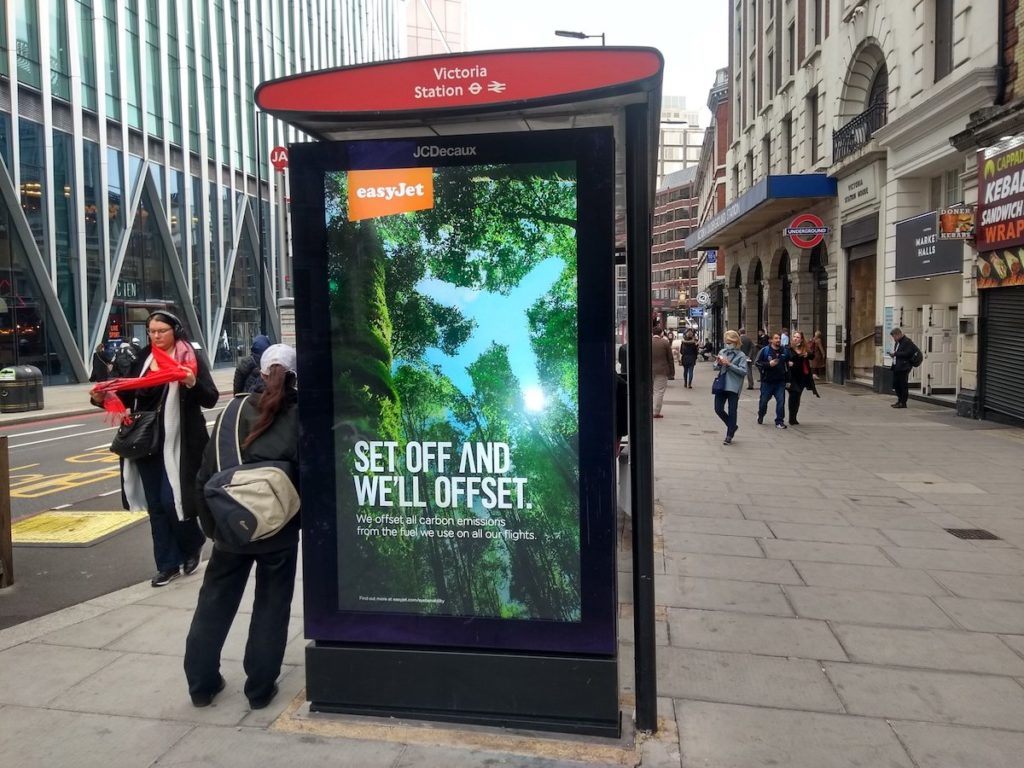 Looking at their adverts and sponsorships, high carbon companies repeatedly present themselves as socially-responsible renewable energy firms, promoting 'natural' gas and biofuel as transition fuels, carbon offset schemes and making vague and distant promises to reach 'net zero' carbon emissions. All of this acts as a smokescreen for continued business-as-usual and rising emissions.
Behind the corporate greenwash, there are highly lucrative oil and gas companies, auto makers, the aviation industry as well as advertising agencies promoting these polluters. The advertising industry is a high carbon industry – yet it has largely escaped public scrutiny.
Fossil fuel industries are in defence mode. As concern over climate breakdown reaches new heights, major polluters are struggling to stay relevant and culturally acceptable. We must be ready to act as they spend further billions of dollars on PR and advertising campaigns, and entangle their logos in our sports and cultural institutions. Join us in taking action in 2022.
---
Coverage from the European Days of Action, October 2021
October 2021 Fossil ads seriously damage your health and our planet: Following the tobacco industry's playbook, major polluters are using our public spaces and institutions to greenwash their image, delaying climate action by framing themselves as part of the solutions. In fact, a new report released last week, by DeSmog, found that an average of…… Read More