Rotterdam, 4 October 2021 – More than 80 activists from 12 EU countries used fossil fuel ads from all over Europe to block the entrance to Shell's refinery in the port of Rotterdam. The peaceful protest comes as over 20 organisations launched a European Citizens' Initiative campaign today, calling for a new law that bans fossil fuel advertising and sponsorship in the European Union.
Lead organiser of the European Citizens' Initiative, Greenpeace EU climate and energy campaigner Silvia Pastorelli, said: "We're blocking Europe's largest oil refinery with the very same ads that the fossil fuel industry use to deceive the public about their responsibility for climate breakdown. Fossil fuel companies, car companies and airlines have refused to change their polluting business, but use ads and sponsorships to present themselves as the solution to the climate crisis they caused. We're asking the public to make their voices heard and demand an EU ban on fossil fuel ads."
Greenpeace's 33-metre-long sailing ship Beluga II dropped anchor at 9:00 am this morning at the entrance to Shell's refinery. Activists in kayaks, canoes and inflatable boats formed a second blockade on the water. Another group built a barrier on the water with fossil fuel ads, collected by volunteers across Europe, attached to 22 huge floating cubes. Meanwhile, nine climbers scaled a 15-metre oil storage tank and attached ads next to Shell's logo.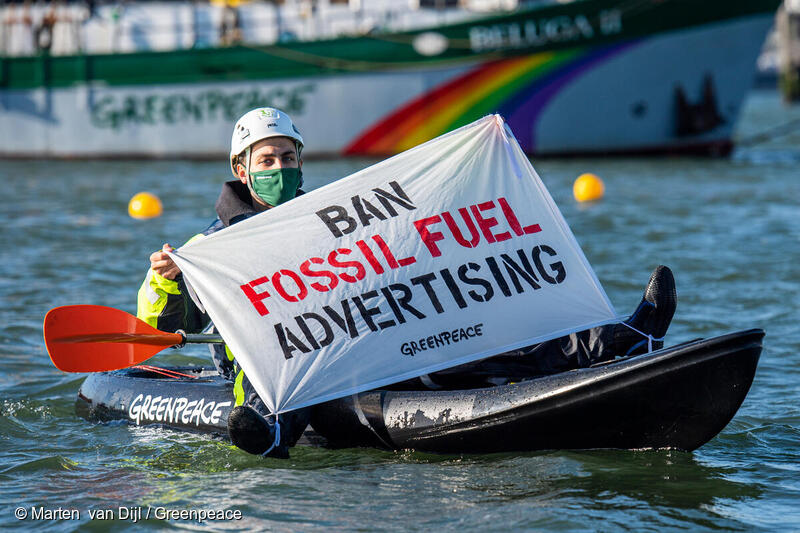 After four hours, the ship Beluga II was confiscated and the kayaks taken out of the water, but the climbers on the refinery held on, hanging and postering fossil fuel advertisements borrowed from all over Europe to the source of the emissions! In the end, the police themselves had to take the fossil fuel advertisements down – in essence, doing what needs to be done on a larger scale.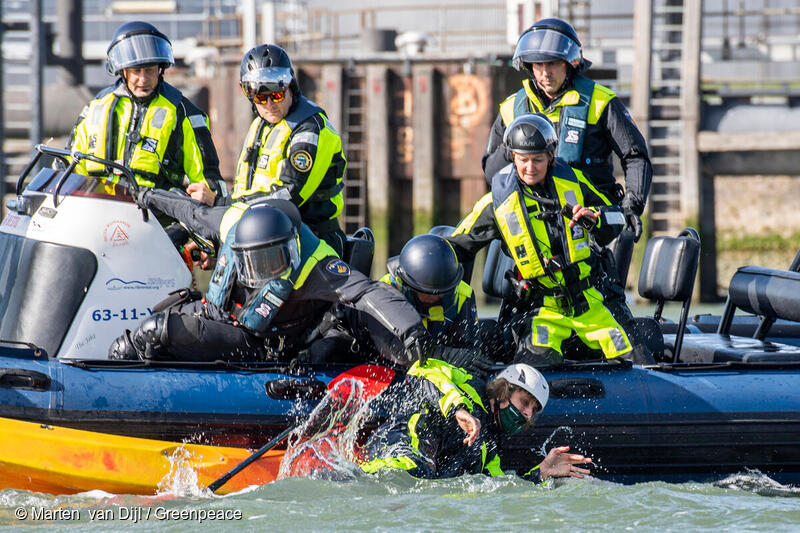 The European Citizens' Initiative that Greenpeace is urging people to sign – "Ban Fossil Fuel Advertising and Sponsorships" – proposes a ban on any advertisement or sponsorship in the European Union by companies selling fossil fuels, vehicles running on fossil fuels, and flights or ferries that run on fossil fuels. If the campaign gathers one million verified signatures in support of the proposal, the European Commission is obliged to respond.